Some really, really, REALLY exciting news is that I'm opening up shop at
Digiridooscraps
! I've always felt at home there, and there are many old friends from my Snap days. Add in the fact that more than half my CT call it home, and it seemed like a no brainer! My store isn't open yet, but I will keep you posted... it will be by the end of the week and there are some HUGE bargains!
I am still at
Enchanted Studio Scraps
and love it very much there. Just not exclusive ;)
First things first, I'd like to introduce my new CTM to you! I 'met' her at Digiridoo and she's been doing gorgeous LO's ever since ;)
Click on her picture to head straight to her lovely gallery!

Now on to some other news! Digiridooscraps is having their GRAND OPENING on Friday...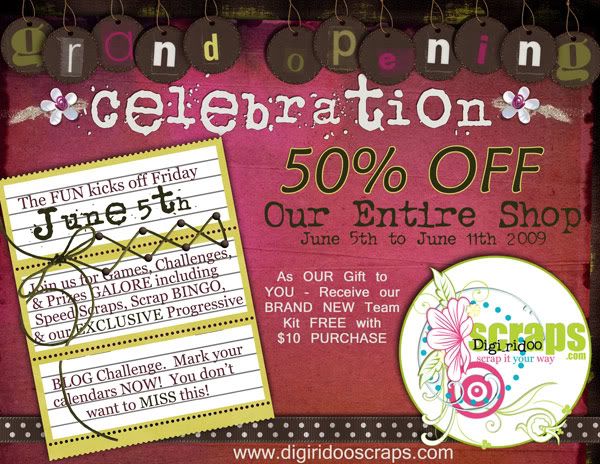 Since I'm only just trying to catch up on all the news and the goings on over there, I have to rely on what I've heard, and I've heard that there's going to be a BIG PARTY!
I will have more details in the next few days, so STAY POSTED!
My internet has been down more than it's been up today and it's almost 1am, so I need to go to sleep. I'm very excited, and I hope you are too!